Tikeahu Island Honeymoon
Tikeahu Island Honeymoon Hotels and Resorts
Tikehau Pearl Beach Resort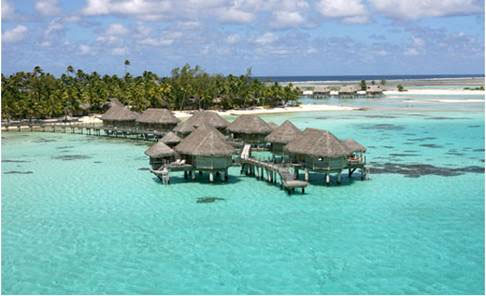 Located on a secluded, pink-sand beach that is beautifully fringed with palm tress, Its spacious, Polynesian-style beach and overwater bungalows feature their own verandas and are equipped with all the modern amenities of a deluxe property. The bar and restaurant are located poolside, providing an idyllic setting to admire the surrounding scenery and witness the bright, starry sky at night.
Tikeahu Island Honeymoon Beach Activities
EXCURSION TO BIRD ISLAND

At the Tikehau Pearl Beach Resort
Venture across the lagoon with your guide to the tiny atoll known as Bird Island. A bird watchers paradise, this atoll provides the opportunity to view many unique avian species in their island habitat. Operates with a minimum of 4 people.
Tour Code: TUR-TIHPBR-BIRD
EXPLORE TIKEHAU BY BICYCLE (8:15 AM-12PM)

At the Tikehau Pearl Beach Resort
Tour Code: TUR-TIHPBR-BIKE
Tikeahu Island Honeymoon Dining Options
The beautifully appointed Poreho Restaurant in the Tikehau Pearl Beach Resort sits just a few feet away from the lagoon and specializes in unique French, Polynesian, and International dishes.
The village of Turerahera also offers snack shops and small family restaurants.